Get to know TAS Coach: Joe Veale
All of our acting coaches are highly qualified working actors who participate in the Film/TV industry in a variety of ways, in addition to coaching acting classes. But we want to give you a more in-depth look at who they are as people. 
This month we are sharing some insights that will help answer the question, 
"Who Is Joe Veale?" Read on to find out!
What Makes You Feel Confident?
I feel confident when I am doing the work. The slow agonizing daily work, the little invisible steps that add up on the journey to a dream. When you're doing that work, nobody and nothing can take that away from you. Because you are doing something. You are an artist and you are on your way. 
How did you first get into acting?
When I was about 6 or 7, my siblings and I put on a production of Little Red Riding hood in our backyard. We used our garage door as a show curtain. Ever since then I've had an inseparable love for creating characters and art. When I was in 9th grade, while nervously completing a quick change during a highschool production of Beauty and the Beast, a backstage dresser told me 'You'll have to learn to calm down if you ever want to do this professionally!' I never realized you could be a professional actor. From there on my path was set. I went to university, studied hard, and never gave up on my dream.
What has been your biggest struggle in the industry?
Laziness. This industry rewards the hard workers. One of the biggest lessons an artist has to learn is that after a certain point the responsibility for their continued artistic growth and development is in their own hands. As you get on in the industry, it's easy to slip into complacency, and from complacency to laziness. It's a constant battle to stay on top of your skills, and then to also make sure those skills are sharp. 
What is a tip that you use to stay motivated?
For personal use, I developed a Full Time Working Actor Worksheet to champion my artic growth and keep me actively working on practical steps to achieve my goals 356 Days a year. It's my own system to keep me a working actor so that no matter what I have going on in my life, I am always on my way to something. If you want to check it out, let me know! 
Besides acting, do you pursue any other interests in the entertainment industry?
 I am a director, a writer, and a choreographer. Collaboration is one of my favorite aspects of being an artist. I am always hungry for creation, and any way I can champion that in myself and others I will actively explore. I have recently taken an interest in producing, and went so far as to become a fundraising and development coordinator to learn how to generate money for projects. To that end,  I am interested in starting a Production Company to change the world with art. 
Why did you get into coaching?
Being able to champion and enable other artists to not only pursue their dreams, but become more wholesome artists is immensely rewarding because every time you do so, the world becomes a better place. The drive to populate the world with brave artists called to me, and I followed it. It's a beautiful thing. I enjoy seeing someone realize in the flash of a moment that they are capable of life changing acting, that the life they always dreamed is not impossible, but in fact plausible.
What is one important bit of advice you always give the students in your class?
Good art is built on a house of risk. The best artists know this, and they are unflinchingly brave. Be brave, today. Right now. In this moment, dare to risk more and see what you are really capable of when you let go of control and jump bravely into the unknown. 
What is your proudest coaching moment?
I recently had a student tell me they never knew how to show up fully, that they didn't know they had permission in their life to do so. They told me that they are typically reserved, quiet, and not the type of person to even speak loudly when spoken to, but that in my acting class they found the courage to fully be themself in the world. That was very meaningful, and something I won't forget.
What do you hope that your artistic legacy will be?
I hope my acting career as well as my coaching career will leave a legacy of brave artists ready to change the world with their art.  I hope the artists I work with and impact will feel empowered to charge into unknown circumstances and find that they can thrive there.
Joe Veale Bio:
Joe Veale (@therealjoeveale) is an Atlanta and NYC based actor with a fondness for dogs, and 4 Leaf clovers. He is Co-Founder and Artistic Director of Nerve Project Theatre Co (@nerveprojecttheatrecompany), a performance company dedicated to awakening bravery through evocative theatrical experiences. He has worked extensively regionally as a member of the Resident Acting Company at the Historic Barter Theatre. Recent Off-BroadwayCredits include; Enter Laughing (Marvin, U.S David, and Dance Captain-York Theatre), Great Expectations (Pip-Hudson Guild Theatre), and The Wrong Box (Wickham-Theatre for a New City). He was also in the Pre Broadway Production of The Rivals, starring Tony Winner Harriet Harris. Fav regional credits include: Peter and The Starcatcher, Altar Boys, 42nd Street, Mamma Mia, Footloose, and The Three Musketeers. You can find Joe on Season 3 of The Marvelous Mrs. Maisel, as well as on Amazon Prime in the films Nocturne, and Turn Back Night. Joe received a B.F.A. in Theatre Arts with concentrations in Musical Theatre and Professional Acting from East Carolina University, and received his Meisner Training and certification from Greg Funaro. He is currently represented by Bret Adams Ltd Artists Agency. Joe is an endurance athlete and finished his first Ironman 70.3 Triathlon in June of 2022. www.joeveale.com www.nerveproject.org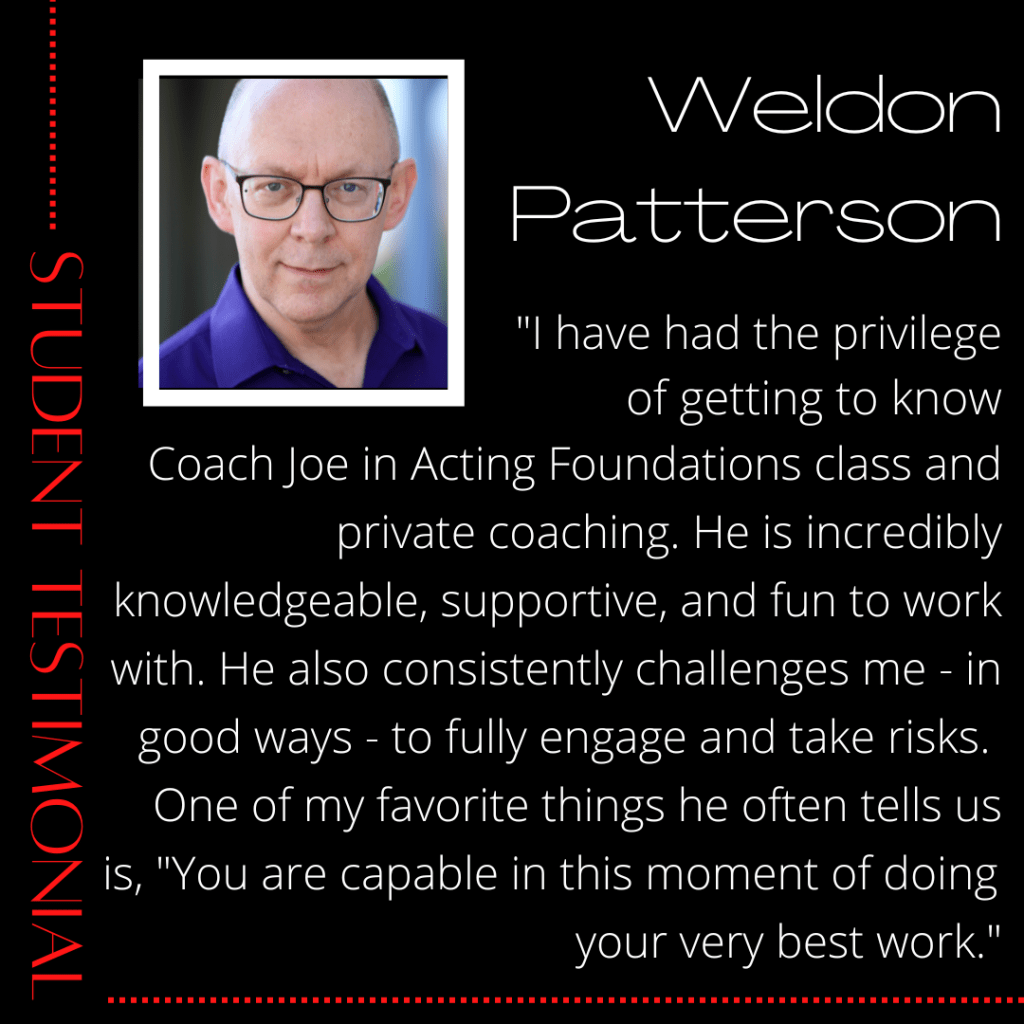 Would you like to take classes or private lessons with Coach Joe?
Coach Joe teaches classes in: Foundations, Working Year 1, and Improv. To sign up for classes, click HERE. You can also call our Front Desk and request Joe's current roster at 770-904-6646.
Coach Joe also offers private lessons, such as the following: Business of Show, Advanced Acting Techniques, Advanced Audition Techniques, Professional Prep, Musical Theatre Book Building, Creative Alignment for Project Incubation.
To sign up for a private lesson with Coach Joe, click HERE. 
---
Want to keep up with Coach Joe? You can follow him on Instagram, check out his personal Website, or look into his theatre company, nerveproject.org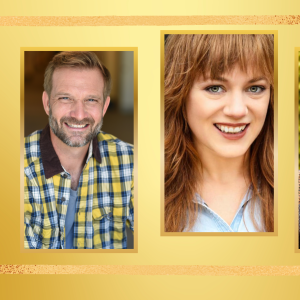 Get to know Coach Kate, Coach John, Coach Kirsten, and Coach Molly September 2023 What is the best sushi place in Atlanta? Which two coaches
Read More »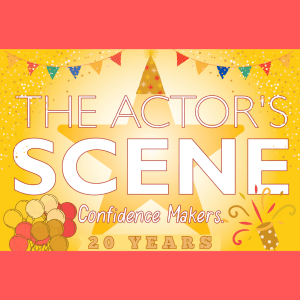 We want to wish a very Happy 20 Year Anniversary to The Actor's Scene! The past 20 years are chock-full of memories and accomplishments,
Read More »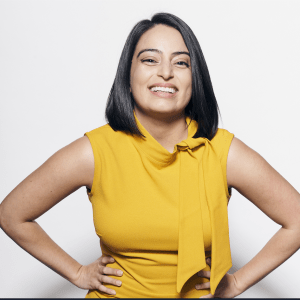 We want to wish a very Happy 10 Year Anniversary to Coach Jeanne! All of our acting coaches are highly qualified working actors who participate in the Film/TV industry in
Read More »