Happy 10 Years to TAS Coach Jeanne Morales!
We want to wish a very Happy 10 Year Anniversary to Coach Jeanne!
All of our acting coaches are highly qualified working actors who participate in the Film/TV industry in a variety of ways, in addition to coaching acting classes. But we want to give you a more in-depth look at who they are as people. 
This month we are sharing some insights that will help answer the question, 
"Who Is Jeanne Morales?" and below you will find out why Jeanne is such a beloved coach!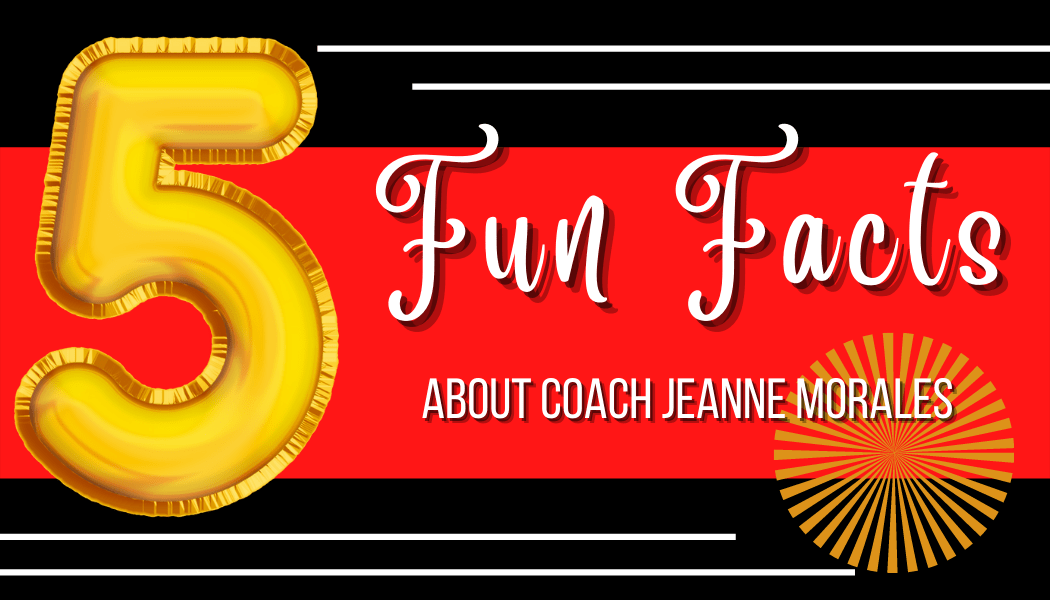 I am certified in Open Water Scuba Diving.
I am an adventure traveler! I have gone swimming with the sharks in Hawaii, gone sky diving in Tennessee, and snorkeled in the Silfra Fissure, which is the only place in the world where you can swim between the Eurasion and North American Continental Plates.
I am an animal lover! I love all animals and wildlife, but bunnies are life! I would love to work in wildlife conservation. Recently I helped save an abandoned domestic duck, and doing so brought me so much joy!
I am super creative with my hands! I love to craft, draw, paint, and make! I also teach crafts on the weekends, and sell some in my Etsy shop.
I have been in this industry for years, but my degree is in Criminal Justice. I almost became a Criminal Investigator!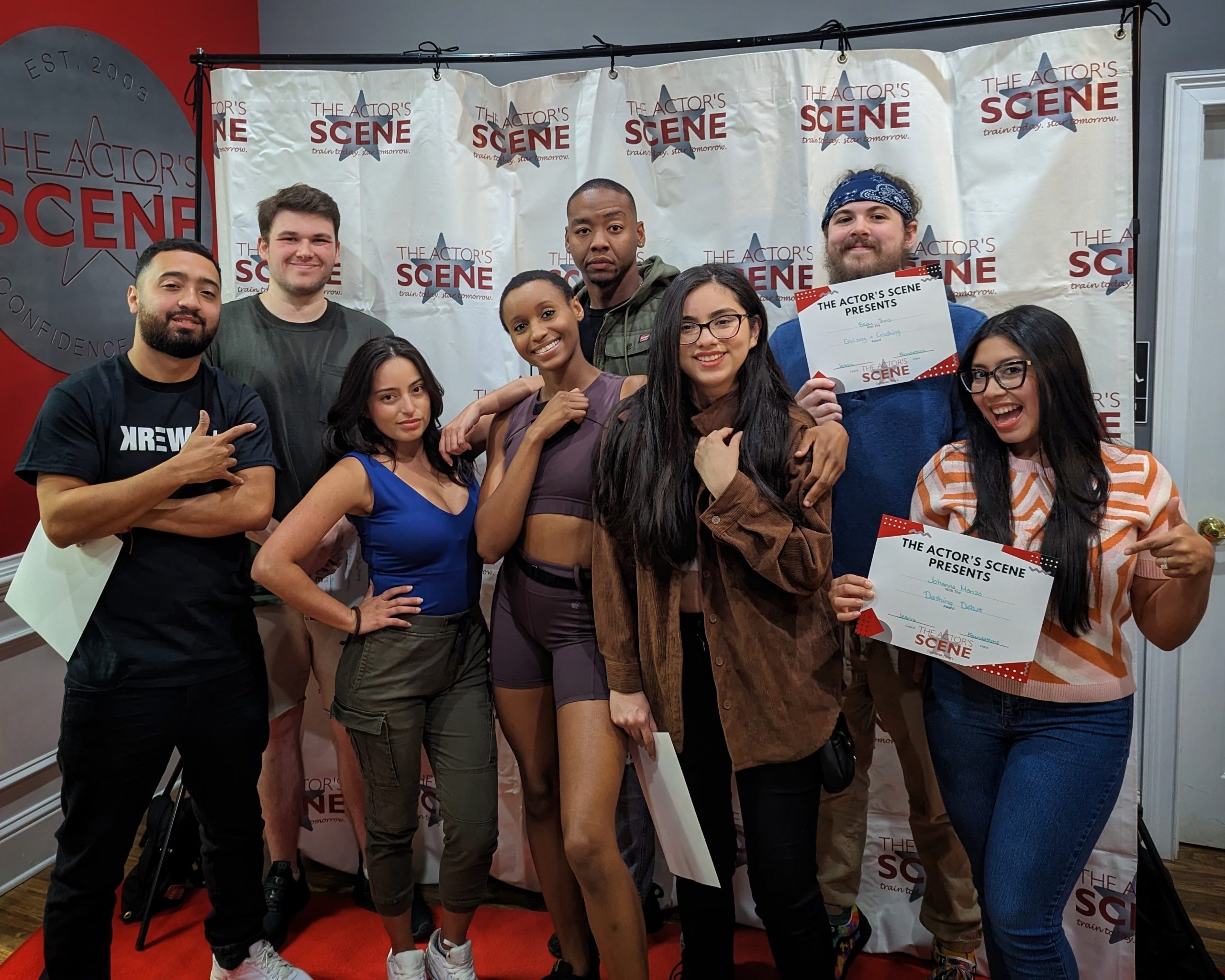 How did you first get into acting?
I always knew I wanted to be a part of a creative industry growing up, but never settled on what part. As I got older, I started to suppress my creative side, and just focused on academics so that I would follow a "normal" path that was expected of me. Although I did everything I was "supposed" to do, I had a difficult time finding a job in my field of study after graduating. To earn income, I worked as a background actor on several productions. I fell in love with the film industry and made the decision to just go for it! Not long after, I was offered a job at TAS as an administrative assistant, and worked my way up to where I am now.
Coach Jeanne on Wildlife: I always knew that I wanted to someday work with wildlife, even if that meant just going on a volunteer trip to an exotic country. During 2020, when everyone was stuck questioning their whole lives, I thought about the possibility of this as a career! I went through some schooling and educating myself on different aspects to then realize that being a rehabilitator makes more sense for my goals in fulfillment. I put any further steps off hoping the right opportunity would come to me, and in a weird twist of events, this ended up happening! After losing my rabbit best friend, I knew I needed that the time was now. I needed to get my foot in the door in her honor. I have been working really hard learning all aspects, good and ugly, of this career by volunteering at a wildlife rehab center. I even got too go on my first wildlife release, and by grace, I was able to release wild rabbits! 
My goal is to go abroad and work with sea turtles so that I can combine my love for the ocean and wildlife, with the ultimate goal being officially working with the Big 5 in Africa!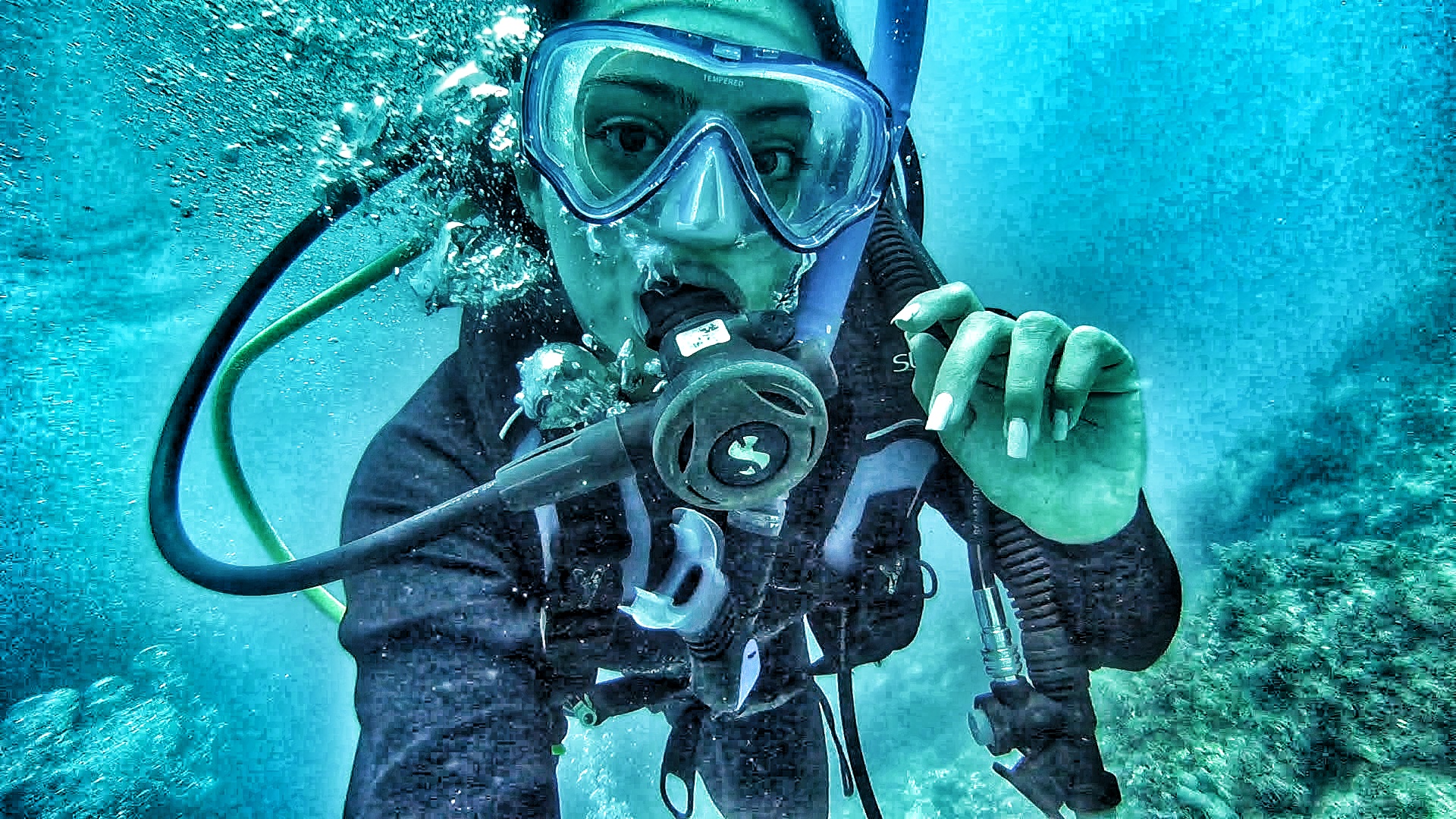 What has been your biggest struggle in the industry?
In the past, I have struggled with feeling like I invest so much time and effort, only to not get anything in return. There have been times where I would stay in the taping room for hours trying to get the perfect audition. There was an audition I received that I felt was perfect for me and was going to change my life. I had played this style of character in class, in showcases, and also just sounded just like the character description! I felt this was me reaping what I have sewn. When I did not hear anything back, I almost quit acting.
That is really hard. So how have you learned to not take rejection personally and overcome discouragement?
I had to come to the realization and remembrance, that taking the leap into entering this career, was not solely based on impressing casting directors. I grew so much in accepting, and being perfectly happy "doing my job" and moving on to enjoy my life day to day. Now I can knock out auditions I am happy with in a short amount of time! I also realized that it is OKAY to decline auditions sometimes, even if it is just for the need of taking a break for myself.
Coach Jeanne on figure skating: I used to love watching figure skaters as a child and always dreamed of getting out there. My dad would take us for fun, but I never took lessons. As an adult, I would always try and do the things I never got to do as a kid, but this would always be limited to activities or experiences, rather than remaining consistent in fully learning new skills. I consider myself a quick learner and jack of all trades, but I knew this would be difficult. It is literally a sport where one is in constant fear of falling! I started being exposed to more adult skaters who are just starting out as adults. This even included my headshot photographer! I decided that I need to stop putting this off and just go for it! I knew I would be provided for as I am following where I felt my heart most led to go, I started taking lessons in January, and now I am in Adult level 4. Sometimes I feel like a complete beginner, but then look back at how I was when I first started, and wonder how I got this far! My ultimate goal is to have a performance on a frozen lake!
Besides acting, do you pursue any other interests from behind the camera?
I love to play with travel photos! When I take trips, I plan what I wear based on how an outfit will look in the specific locations. This bloomed a growth in finding beauty in different scenarios that can produce beautiful pictures and video. With the changes in social media, we are growing to accept short videos as complete videos! Getting behind the camera, directing and shooting, has been a growing passion of mine. When I hear certain songs, I usually create movies in my head. Sometimes I will go ahead and shoot the footage, but then get too shy to release anything! I am going to be working on this. I did try out a passion project after falling in love with a scene from the movie "Joker" (2019). I had a friend, who is a DP, and we worked together to recreate the scene from a woman's perspective. I directed and edited. You can watch it HERE.
(Not appropriate for younger audiences. Viewer discretion is advised.)
***Filmed by Itzel Fernandez (Website HERE)
I also made a fun ASMR video you can watch HERE:
Why did you get into coaching?
I had to do a lot of self teaching and self growing when it came to my level of confidence growing up. This included putting myself in uncomfortable positions for the purpose of growth. I felt that I could understand someone's struggle in not taking risks due to the fear of how it looks to others. I would say that I wanted to be some type of guide to teenage girls, and others, on  building confidence and goal chasing. I originally thought this would have to be done by some type of seminars I would have to come up with. Then I started paying attention to how students really connect to their acting coaches at TAS, and build a strong sense of trust. I realized that my goals could be fulfilled through coaching acting as well! There are so many moments where I see instant growth, due to the trust in my knowledge, then say to myself "I love my job!
What is one important bit of advice you always give the students in your class?
I always tell taped audition students to do their best at their tapings, then to just forget about them! Dwelling on hearing back will not serve them. Then if they do hear back, it will be a pleasant surprise! 
Also, I often remind students to remember their externals in performances. Externals can be defined as surroundings or any other "external" factors that contribute to our movement. Examples of these could be what one wears, the people surrounding us, the weather, etc. So often we forget all of the little habits we build as humans due to our externals. It is important for our characters to have these as well to make them more relatable to the viewers!
What is your proudest coaching moment?
 I had a student who worked privately with me for public speaking. She was an adult woman who was required to speak in front of men in the corporate world for work. Though she was very knowledgeable on her craft, her confidence lacked when speaking to these groups. She often felt they did not take her seriously. On our first day, I explained how she will have to go through some discomfort in order to grow. Our first lesson ended in tears due to trying new vocal exercises that can seem odd to those who have never done them, and have a fear of public speaking. By the third lesson, she grew so much, and we prepped her for another conference where she had to travel to speak to a group of only men! She came back for our next lesson with a huge smile on her face and was so excited to share how well she had done, and all the compliments she received! She was even invited out with the group to get to learn more!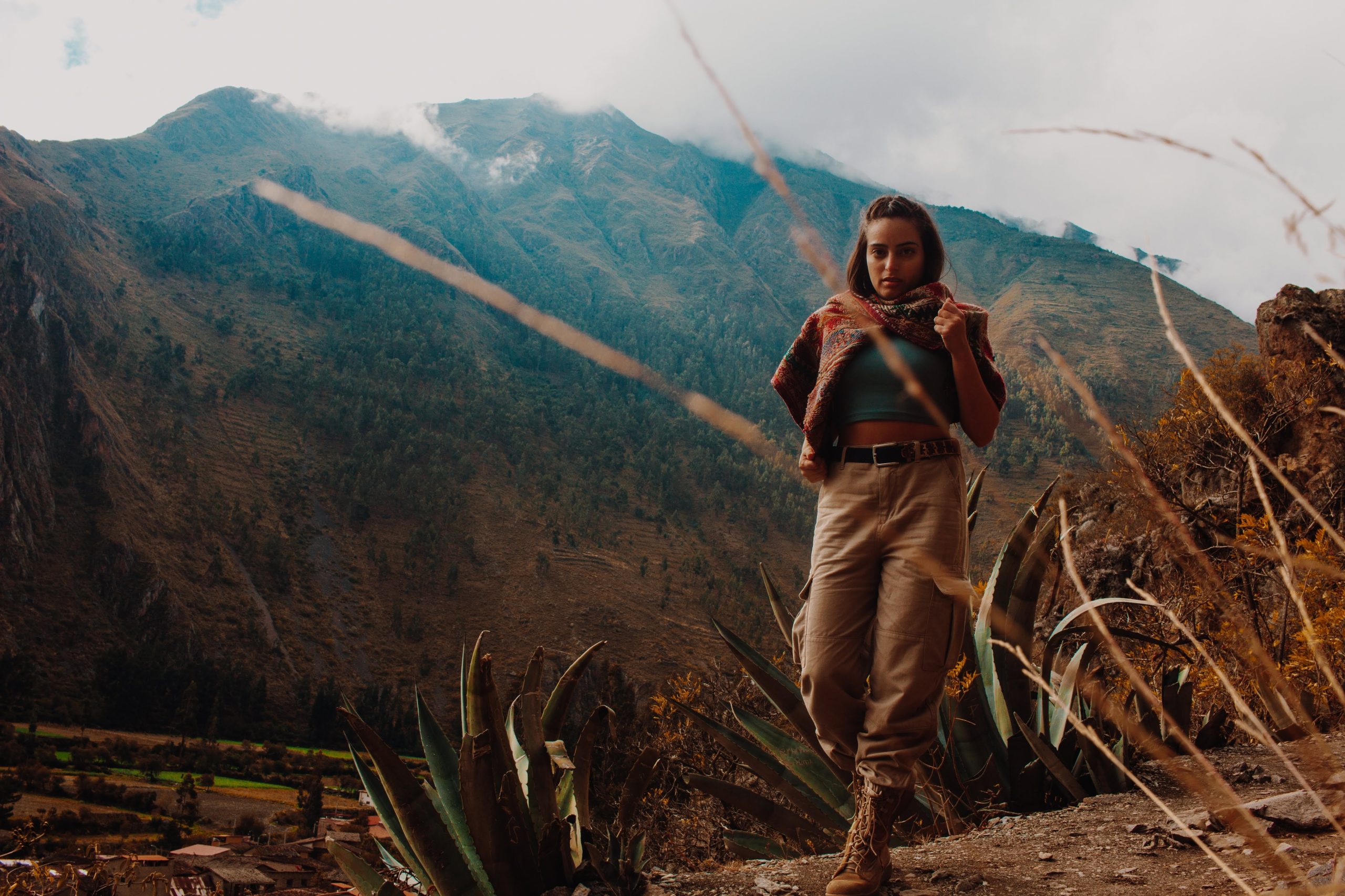 What do you hope that your legacy will be as an acting coach?
I always strive to make an impact on anyone I work with, even if I am just working with them once. From personal experience, I know what it is like to have someone assist with breaking down personal walls. It allows you to feel liberated to perform and feel amazing about yourself. I hope to continue to make this type of impact on students, where they are proud of themselves, and everything else is just secondary.
Lastly, tell us what makes you feel confident?
I feel most confident when I feel my presence is making a positive shift. Whether it be because I am teaching, or just being a friendly face someone can truly speak to. It also doesn't hurt to throw on a cute outfit to enhance the mood!
Jeanne Morales Bio:
As a child, Jeanne was incredibly shy; however, she always knew that she wanted to be on the big screen one day! As she grew older, she noticed that everyone's childhood dreams began to diminish – as did hers – from fear of not being successful or having unrealistic expectations. This led her to follow society's demands to go to college where she received her Bachelor's in Criminal Justice. Although she loved her major, she realized how much her mind has always been against society's standards; consequently, she mustered the courage to go against them. Jeanne has artistic passion that sees beauty in all arts: acting, fashion, dance, modeling, etc. Little by little, she started putting herself in situations where she would have to step out of her comfort zone and do things that would force her to get over her shyness.
As an acting coach she hopes to inspire her students to come out of their shells, so that they may break down barriers and free themselves to do what they love every day. Using the wisdom gained in her own journey, she hopes that the lessons learned will be stepping stones for those who long to show the world their creative ideas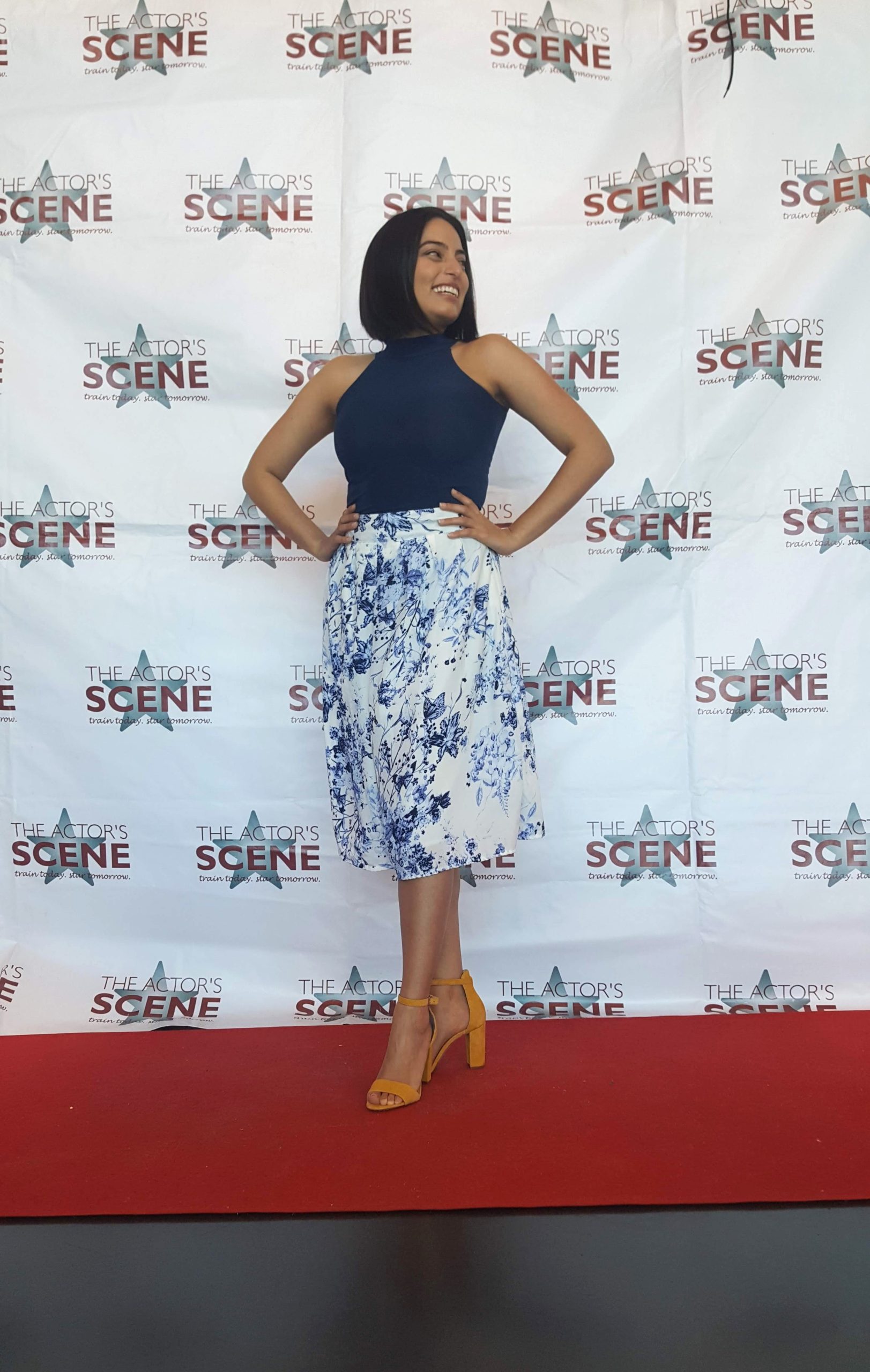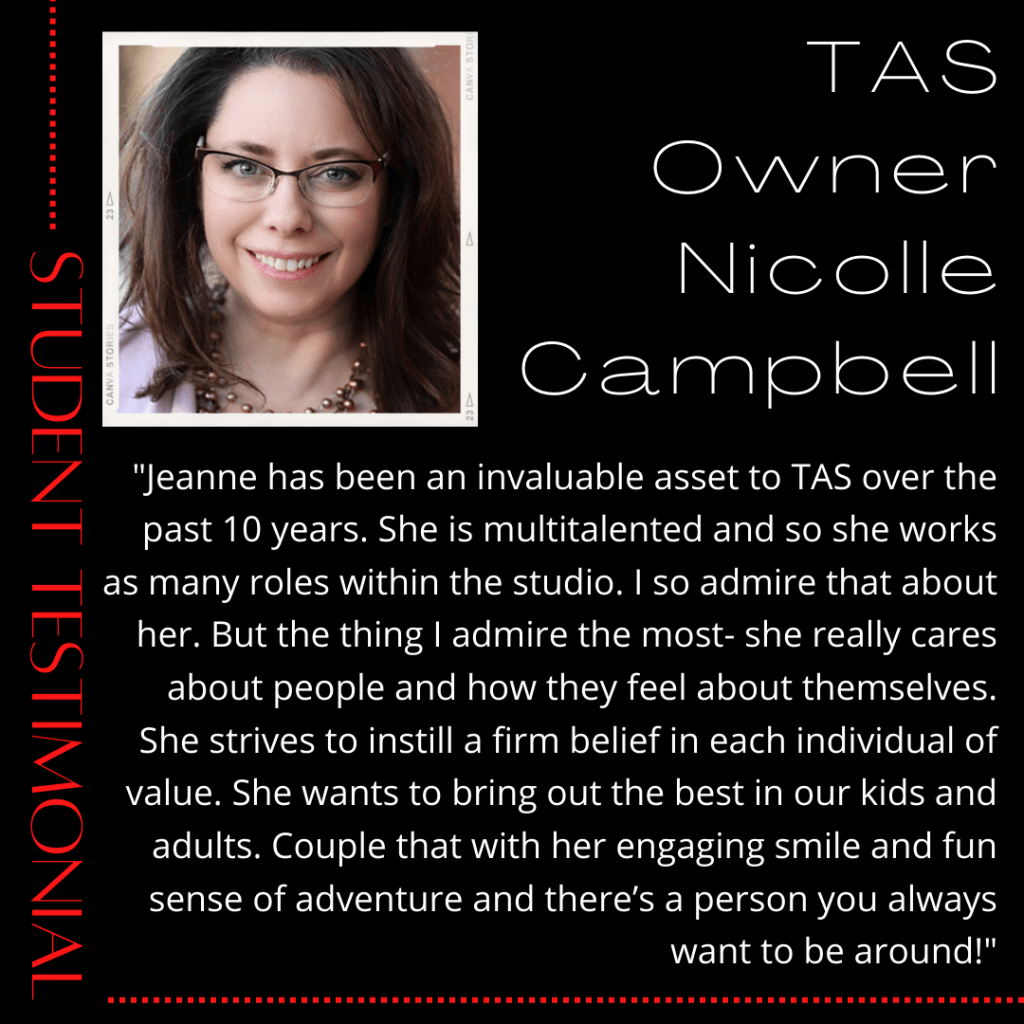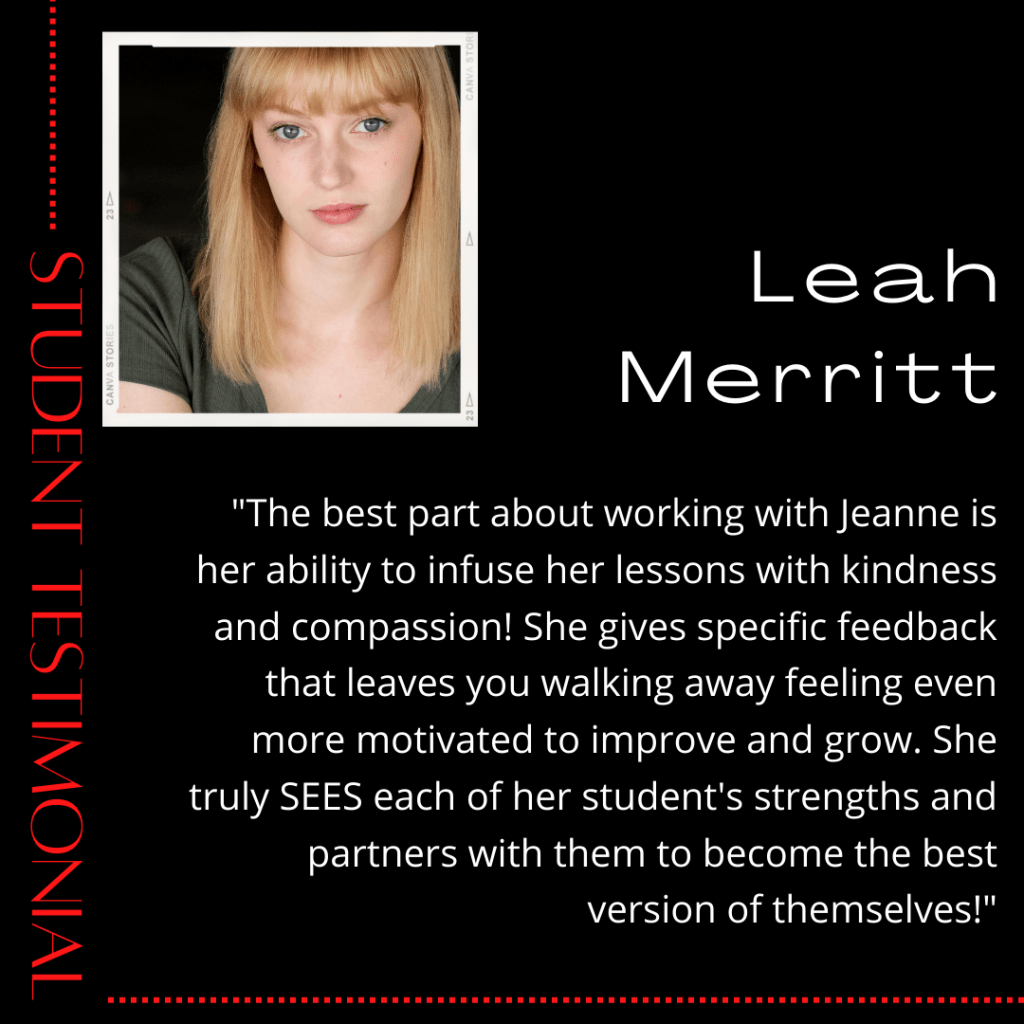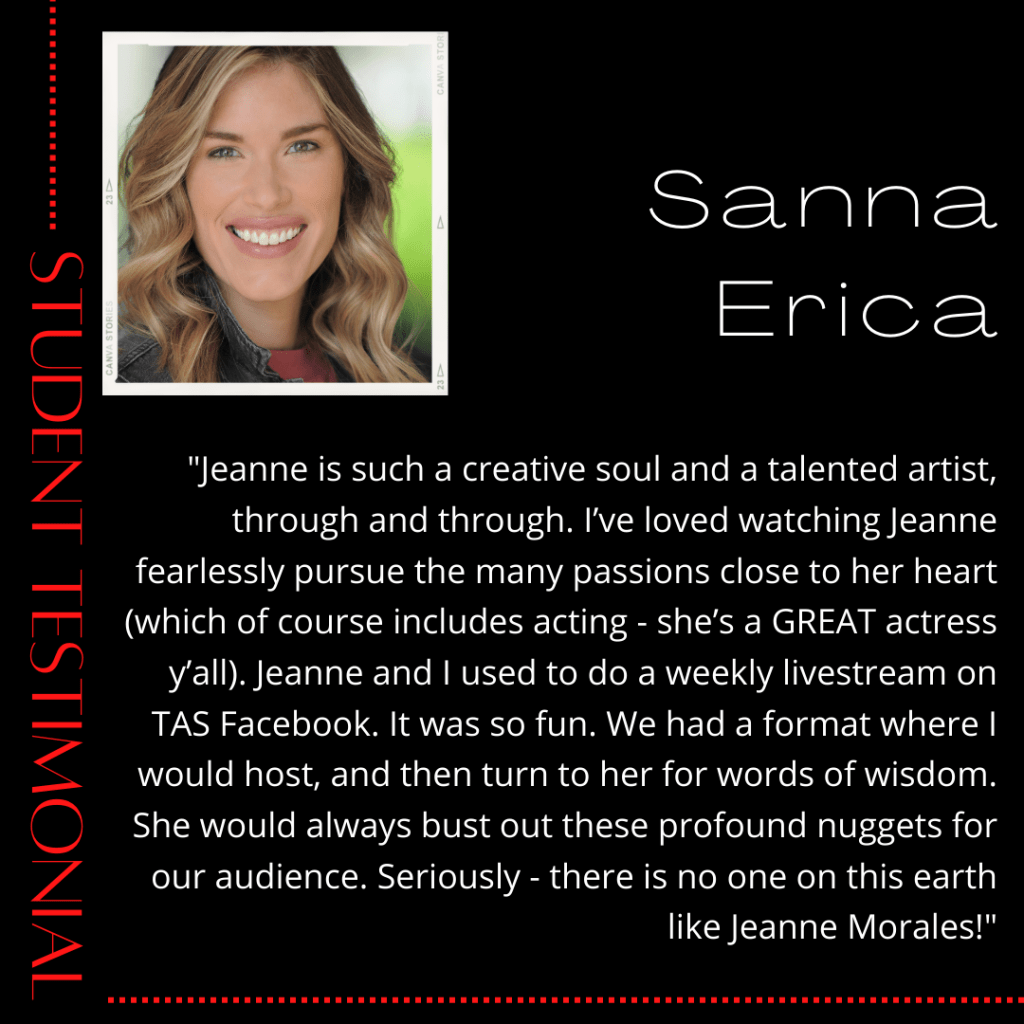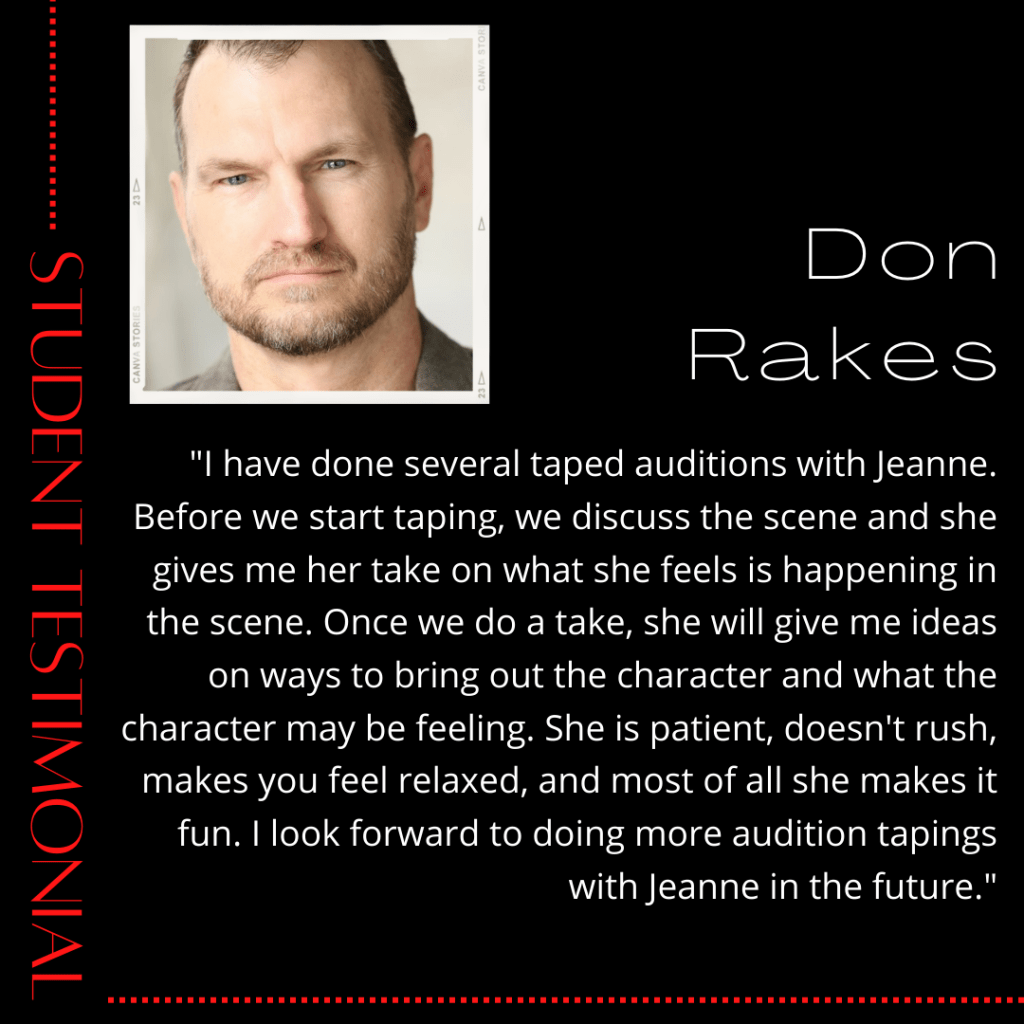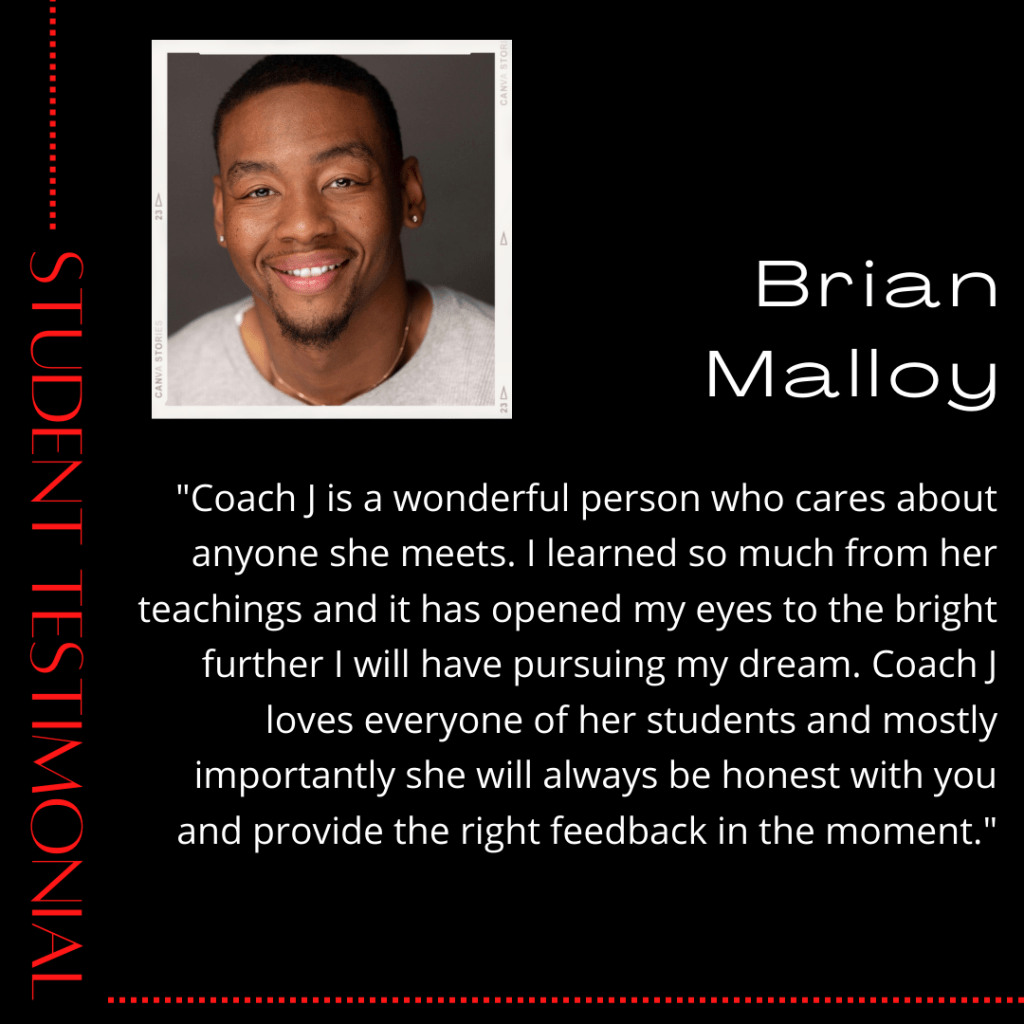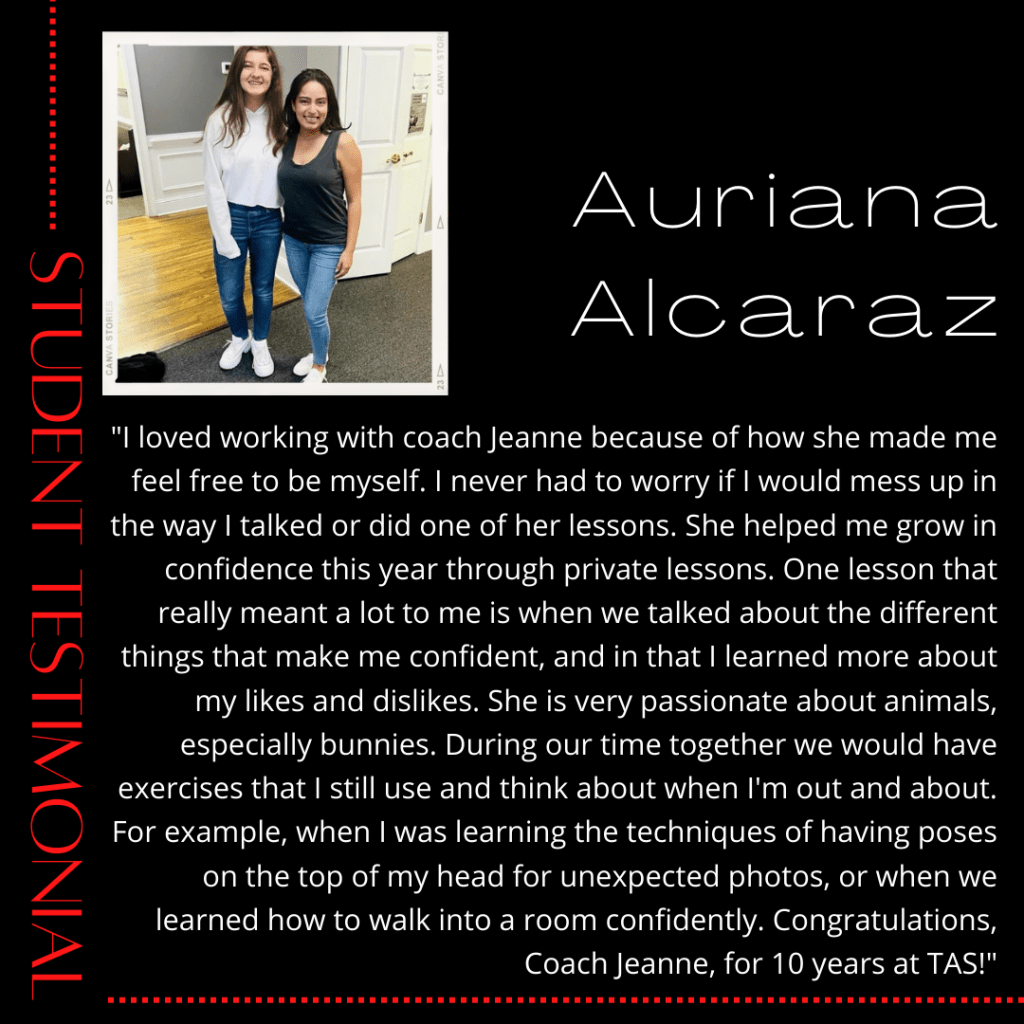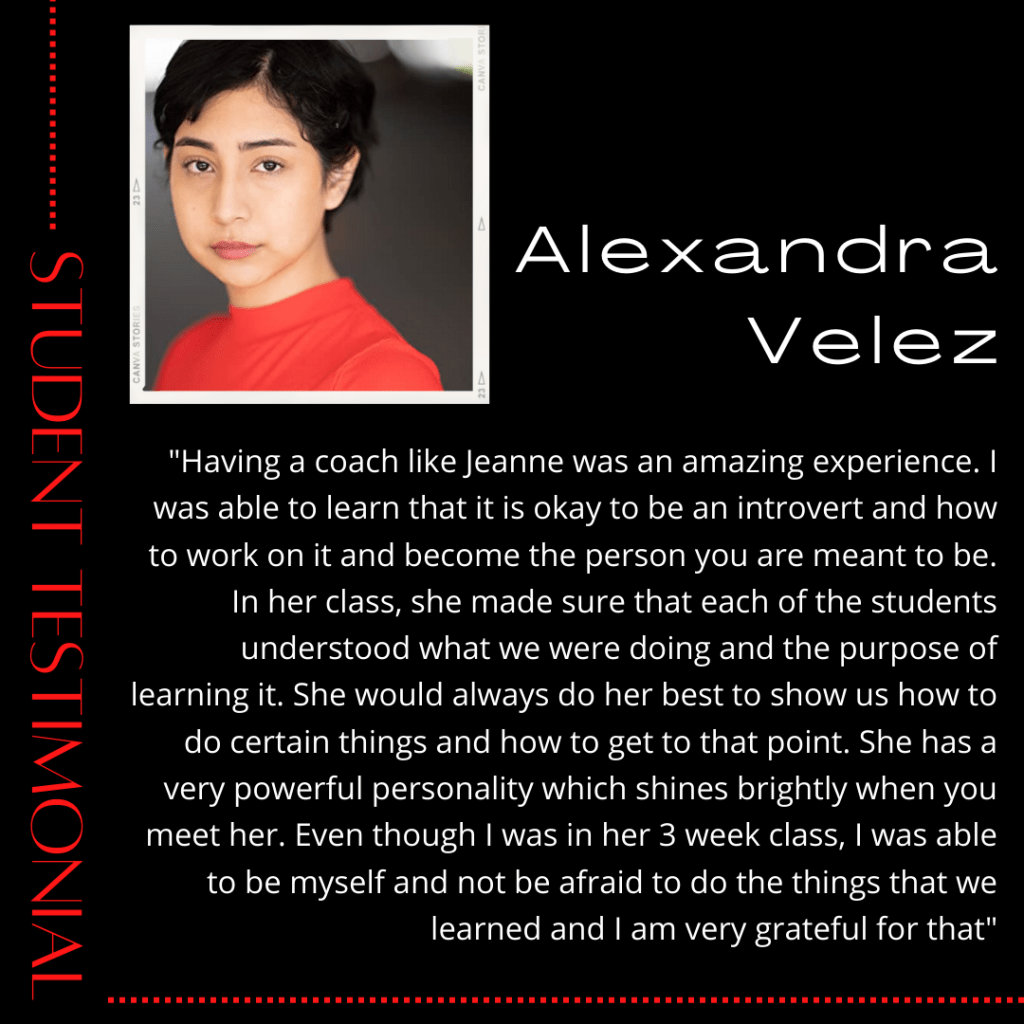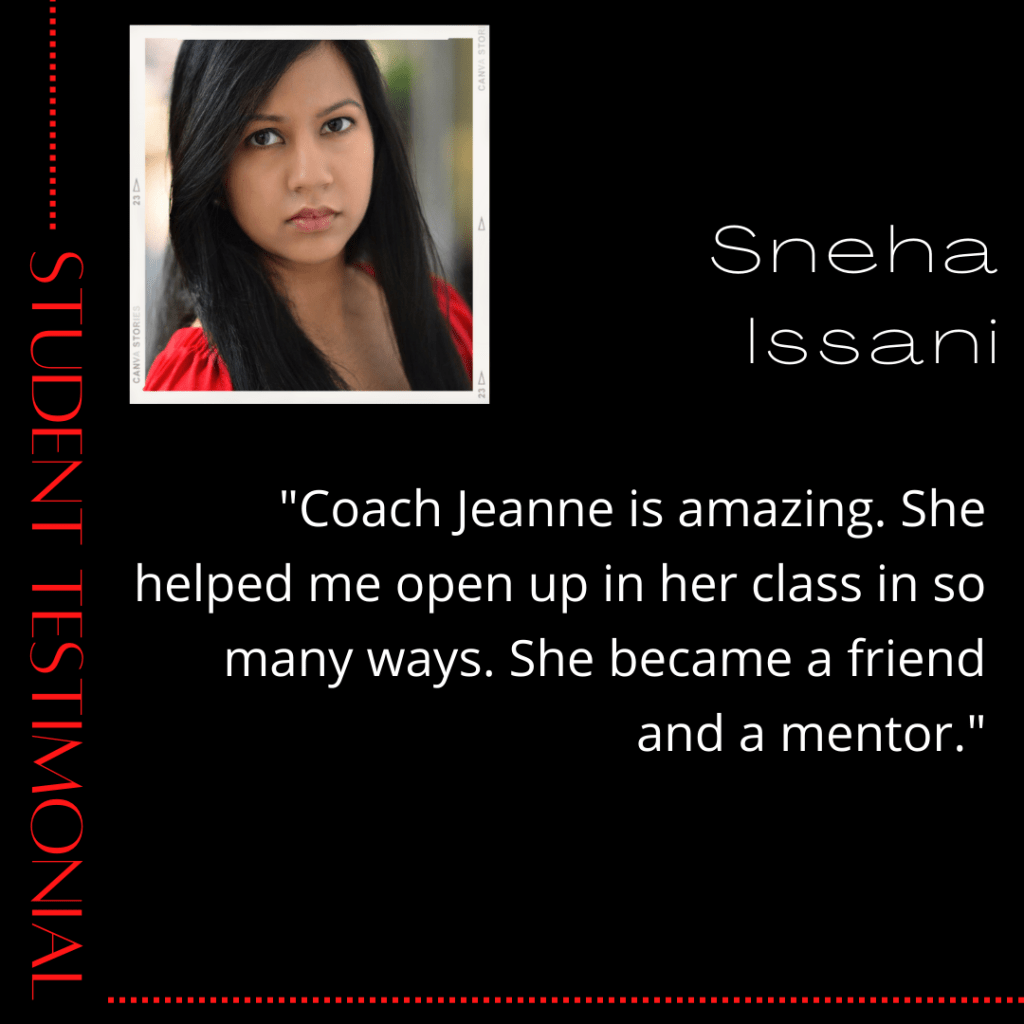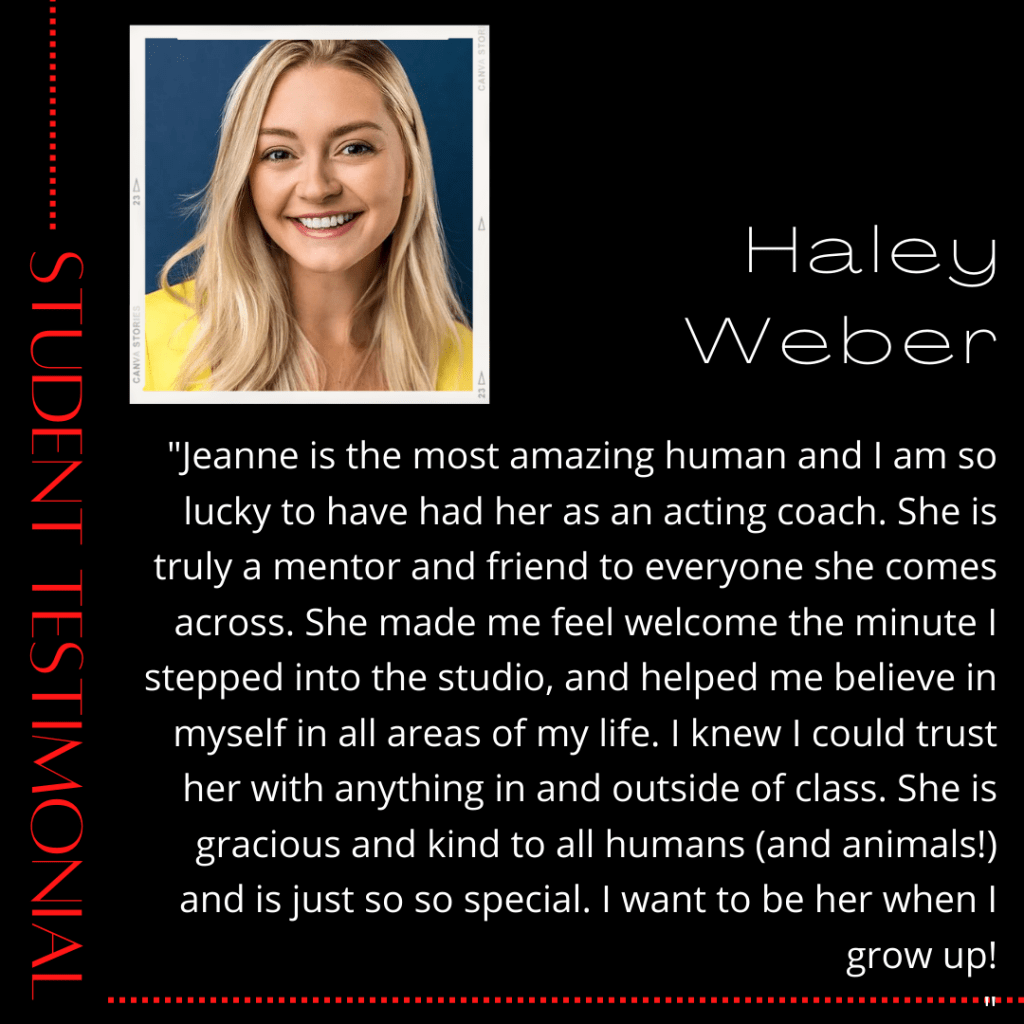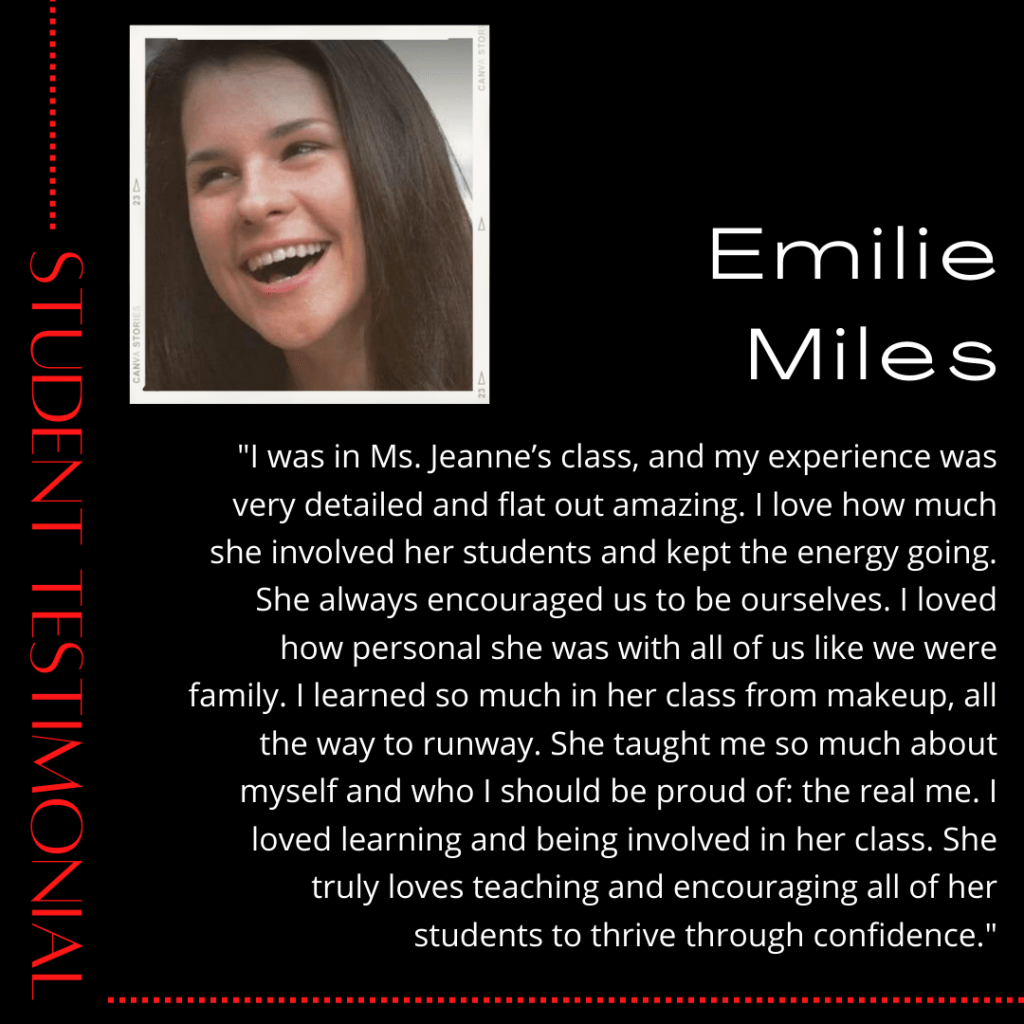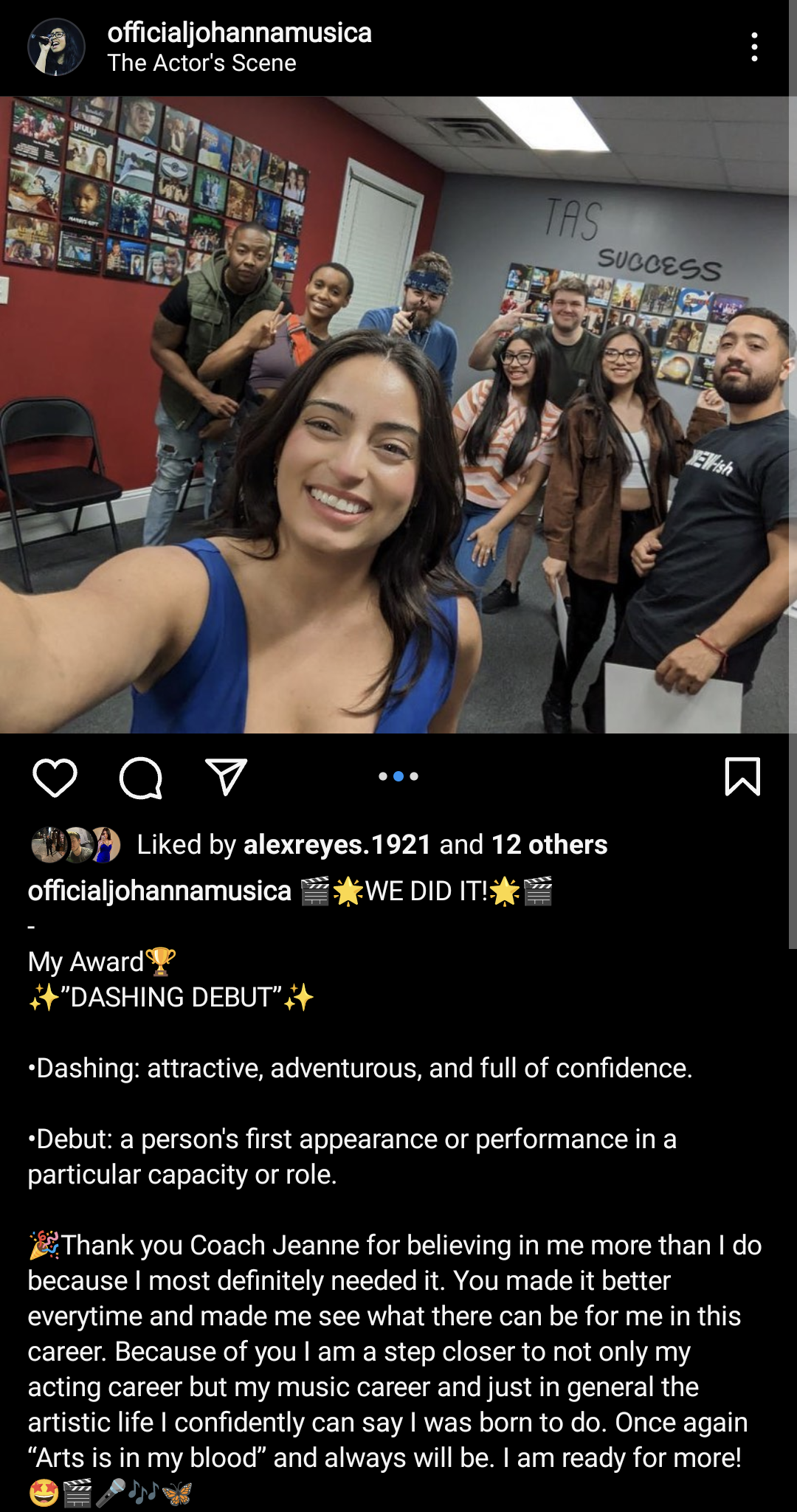 Would you like to follow Coach Jeanne?
Check out her:
Coach Jeanne is one of our main taping coaches. She can currently be booked to work on:
Audition prep
Public speaking
Personal development
Confidence building,
Photo movement.
To book an appointment, call 770-904-6646.
Or you can register HERE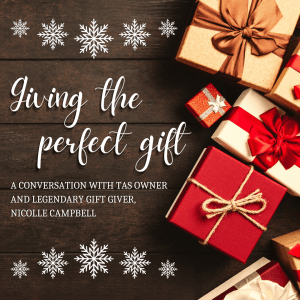 The holidays are in full swing and the feeling of giving is in the air. This author could think of no better person to sit
Read More »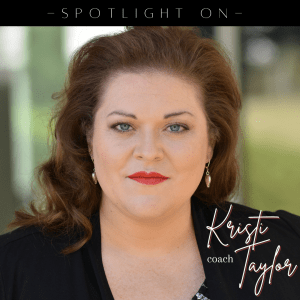 All of our acting coaches are highly qualified working actors who participate in the Film/TV industry in a variety of ways, in addition to coaching acting classes. But we
Read More »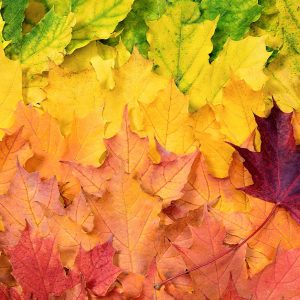 Take some time this Thanksgiving season to focus on what you're thankful for… Let's be honest with each other, this industry is tough. We face
Read More »